Baseball dress + Skechers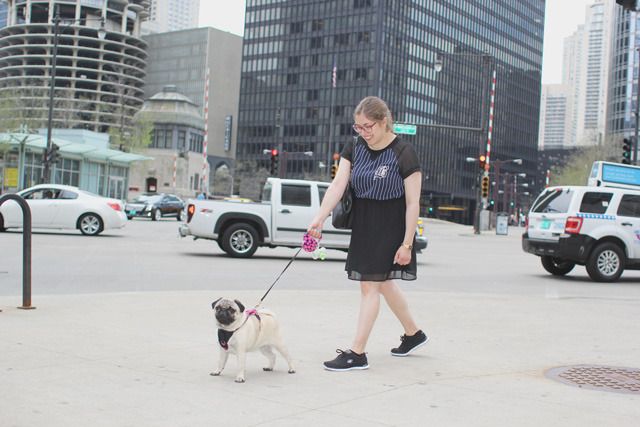 I'm finally back home! I spent the last two weeks in Buenos Aires, and to be honest… I did not take too many pictures. Just the ones I shared on Instagram and some more from my friend's wedding. So, I will just tell you that my trip was amazing… and that I was in most of the places that I already shared during the last 3 years 😀 BTW! I'm still in shock that my blog will turn 3 soon! What can I do to celebrate?
When in Chicago, we took Lemon with us… and I think she already became a garden doggie… cause the big city was way too exhausting for her! She would stop walking after just a few blocks! Im quite excited we were able to capture her adorable yawn! The one she used to do as a puppy whenever I woke up to find her all full of poop and pee.
One of the most exciting things about being back home… besides the fact that I'm back with my hubby and doggie… is that it is almost pool season! Before I left I was able to wear this baseball dress and sandals, and even though it was hot in Argentina… I wanted to enjoy Indiana's spring and summer! And now that I'm back… it is coldish and cloudy! Not cool!
Dress: H&M (similar 1 and 2) / Shoes: Skechers / Watch: Casio / Handbag: Lulu by Lulu Guinness (similar) / Glasses: Chanel