Benefit haul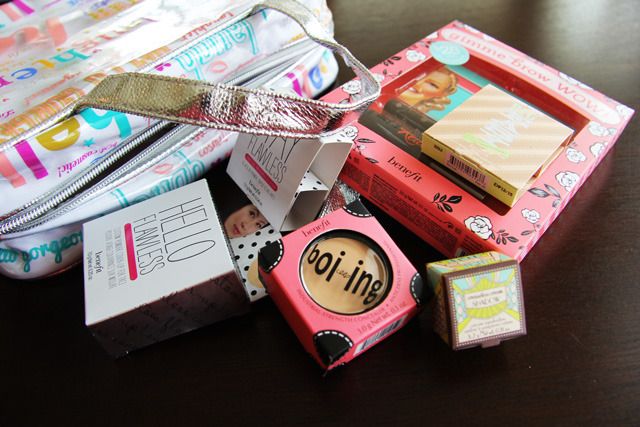 While visiting Chicago, I decided to enter Macy's and treat myself to some Benefit goodies. At first I wanted to get a brow wax at their popular Brow Bar. But to my surprise they said my brows were perfect! I felt so happy once I heard that! It made me realise that no one can see those tiny hairs I hate so much!!! I also told the lovely girl at Benefit that my brown can be quite rebellious, meaning that my brow hairs do what they want when they want to. So she took me in and showed me the Brow Gel. I always wrongly assumed that brow gels would make my browns look dirty, fake and sticky. I'm so glad she tried it on me, as it was perfect… just what I needed to control my brows! After a whole new makeup look, I ended up buying my favourite items and got some free samples and a beauty bag! How cute is it?!
Gimme Brow – I ended up buying this set that was only 4 dollars more and included a free brow bar wax and a They're real mascara. I've heard so much about this mascara, and even though I do not use much mascara (mostly cause I hate removing it!) I tried it and it was great! Definitely worth the extra 4dls 🙂
Boi-ing – Of course my Benefit beauty genius would not let me leave the stand with just my eyebrows done… so she made makeover, a very natural looking one (gladly!). When she applied the boi-ing concealer, my mom immediately said "Oh my gosh!!!. I think that was definitely not a compliment to my natural looks and big dark eye circles (which I inherited from her!). I checked myself in the mirror and she was right… it was good!!! And felt so soft and light. I really recommend you trying this if you have
Hello Flawless – This was a product I did not need but loved so much that I had to have it! First I wanna talk about the packaging, cause it is the cutest and smartest thing I have ever seen! It is a magnetic box, with a really big and useful mirror and a bidding compartment with a brush! Hello Flawless is a cover-up powder that can be used as a foundation. It is very light-weight and it gives a no-makeup look perfect for everyday and even better for very hot summery days.
Stay Flawless (free sample) – I love primers, but for some reason I still haven't purchased one! Which might be a good thing cause now I really wanna buy this one :). This was a new kind of primer as it comes in a bar. This makes it easier to apply and not only it locked my foundation for the whole day but also made my skin look so soft! After applying primer on, there is nothing better than stroking your own face….for like 30 minutes. It is so soft and beautiful!!! But you shouldn't do this!
Big Easy (free sample) – I use bb creams as daily foundations, so this was a great product to try. Mostly cause the bb cream I'm using now is from a german brand that is not available in the US. So it was about time to start looking for a new one. It is also very light-weight and natural looking so I will get it as soon as I'm done with mines.
Creaseless Cream shadow (free sample) – I got this one in the R.S.V.P. shade, which according to their website it is a sparkling champagne. It is a beautiful and sparkly shade with an antique pink hint that gives a very natural and delicate look. I normally do not use eye shadows, but this is such a delicate shade (the one that is impossible to mess up!) that I decided to give it a try! It really is a long-lasting and easy to apply cream shadow.
Have you tried Benefit products? Which ones are your favourite ones?