Corndog muffins recipe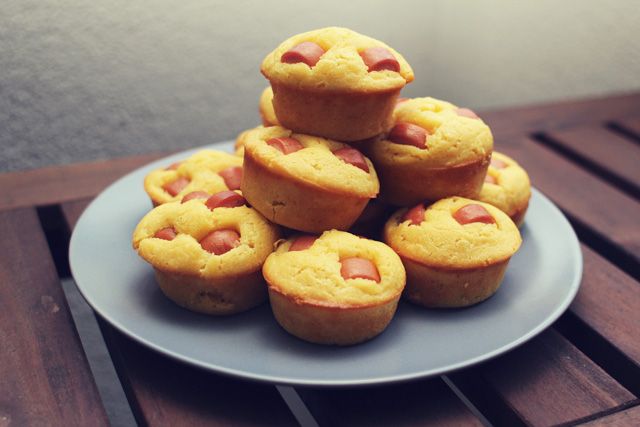 This corndog muffins recipe is amazing! They became a favorite as soon as we try them! This was a surprise cause I had my first corndog ever at Graceland in Memphis…and I hated it! I still remember the moment when I saw them at the table and considered giving them another chance…and oh my! Was I glad I did!! They were delicious! As I do not have a mini muffin tin I used a regular one, which was great cause I could eat them guilt free ^.^
Ingredients
1/2 cup melted butter
1/2 cup sugar
2 eggs
1 cup buttermilk
1/2 teaspoon baking soda
1 cup cornmeal
1 cup all purpose flour
1/2 teaspoon salt
8-10 all-beef hot dogs, cut into 1″ bites
Directions
– Preheat oven. Meanwhile, combine butter and sugar in a bowl. Add eggs and whisk to incorporate. Add buttermilk and whisk to incorporate.
– In a separate bowl, combine baking soda, cornmeal, flour, and salt, and stir to combine. Whisk into wet ingredients in two batches.
– Place a few hotdogs into the middle of each cup.
– Bake for 8-12 minutes.
Save this very kid friendly corndog muffins recipe!