Deep dish pizza recipe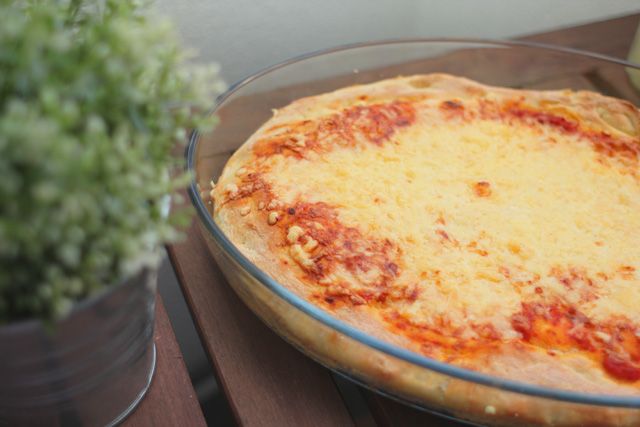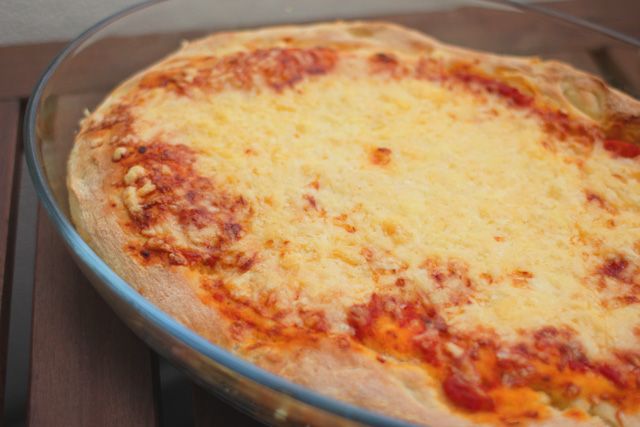 I love Pizza… but not any pizza! I love Domino's, Papa John's and the deep dish one at Pizza Hut. I like thick pizzas with a lot of dough on them. After a few years in Austria, I could never find a thick pizza… so, Inspired by this deep dish pizza recipe, I decided it was time to take matters into my own hands and make one! And it was way easier (and fun!) than I thought!
Ingredients
2 ¾ cups warm water
1/4 ounce packet of active dry yeast
1 tbsp sugar
1 tsp salt
6 cups all-purpose flour
1 cup corn-flour, plus extra for dusting
Directions
– Add warm water in a large bowl and stir in yeast and sugar.  Let stand until mixture is foaming. Add salt and flour in batches, until the dough starts to form. Dust a work surface with flour, and knead the dough with your hands until you get a proper consistency. Form dough into a ball and place it into bowl sprinkled with flour. Let it rest until doubled in size, about 1 hour.
– Preheat oven to 500 F. Divide the dough in two parts. Pour Olive oil or butter in the baking dish and spread out the dough so that it covers all the dish. Place 1 rimmed baking sheet, upside down in the oven while it preheats.
Save this recipe!