Donut cookies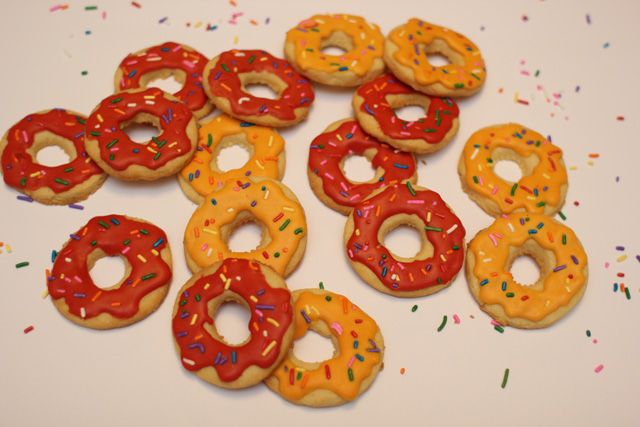 To celebrate my hubby's birthday, I decided to bake some Simpsons-inspired donut cookies! The recipe is exactly the same sugar cookie one I posted a few months ago. It should make around 50 cookies, and do not worry, the icing will be more than enough… I even had some left!
To make the donut shape I used a round cookie cutter, and a smaller one for the inside. For the decoration, I divided the icing in two bowls and used a an orange coloring in one and a red one in the other. If you live in Austria, I know food coloring can be quite difficult to find… my favorite one is called Crazy Colors and it's available at Müller. The rainbow sprinkles I found them at TK Maxx and they are from the US. I normally put the icing in ziploc bag and cut one of the ends! That way I can control the amount of icing that comes out and decorate them better. Here is a video that shows how to decorate "Simpson style" donuts!
Click here to check the sugar cookie and icing recipe post!