New in: MAC Cosmetics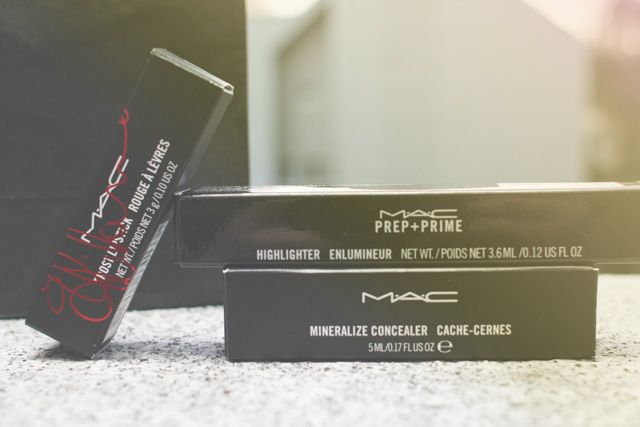 A few weeks ago, I had a little time to kill before catching a train back to Linz, and decided to spend it at M.A.C. Growing up, I used to be obsessed with it, mostly because they had an adorable Barbie collection. That's when I fell in love with mac cosmetics! But then I got bored and started checking CoverGirl, Bobbi Brown and Dior. So, In those extra minutes I had…I decided to reconnect with my old crush 🙂
And ended up getting a bunch of things…and almost missing my train!!! :S
Frost lipstick Viva Glam Rihanna
After realizing that all my lipsticks are either pink or some weird crazy color (burgundy, orange, gold!), I decided it was time to get a red shade. And it was not easy…cause red is one of my least favorite colors!. And even though I'm not a Rihanna fan, I have to admit this shade is pretty cool 🙂 But be careful! Red is not pink…and it stains stuff super fast!
Prep+Prime Highlighter in bright forecast
After picking a lipstick shade… I decided to face my biggest problem and ask what they had for dark circles, and she showed me their new Prep+Prime collection. The packaging is super cute! It is full of subtle sparkles in green shades. Love it! And it works really well!!!
Mineralize concealer (NW20)
And to finish my dark circles dilemma, she recommended this concealer! Which was super scary cause it looks like a nail polish…but it is amazing! And combined with the highlighter…it really hides my dark circles ^^
Random thing about me, is that I do not love wearing make up. So I have three make up categories. One is for very important events (fashion week, weddings), where I use the Bobbi Brown perfect skin kit. It covers my dark circles amazingly well… but feels too heavy for everyday life. The second category is super new as it involves these M.A.C pieces. I use these for important but more informal events (brunch, press events, dinners). And last, but not least!, is the third category. This one includes some bb creams and super light products that I use almost every day. They do not cover the dark circles very well… but they are good enough for running errands and daily life 🙂
Don't forget to vote for next month's book club pick!
You can find the poll at the sidebar 🙂