Novelstyle book club: June
This month's pick is….
…The Spy who came in from the cold by Le Carré.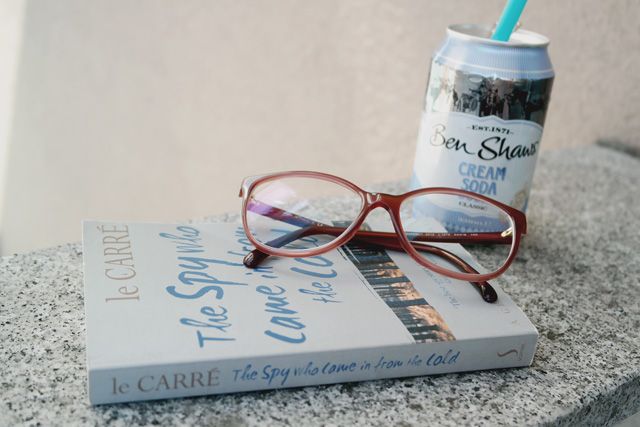 I've been wanting to read this book for a really long time… and seems that some of you too, cause it won the June's Book Club poll!
This will not be your average book club, it will definitely be more fun and fashion related. Now you are totally confused… how can a book like The Spy who came in from the cold be fashion related?! Well… that's why we have to read it! We have to check it out and find different topics on it that are related to what we like. Maybe there are no clothing references at all, but I think all books have them to help build the character and allow us to imagine it better. And those things are not random, or why would Agent Leamas push up the collar of his jacket while stepping outside… and that's just in page 3!. Clothes help define a character…and that's what this book club will mostly be focused about. There are tons of smarty pants book clubs out there… let's try to do something different and fun 🙂
 At the end of the month, I will add a few questions and discussions topics to this post…So stay tuned and be ready to discuss them!
Hope you can all join! Or at least a few… so I don't end up doing this on my own. And if you don't have the time to read the book… well, guess what! There is a movie version starring Richard Burton… I bet that now you wanna watch it!
To give you more time to read, I'm letting you know that July's pick will be Chocolates for Breakfast by Pamela Moore.
*SPOILER*
I really enjoyed reading The spy who came in from the cold, at some moments it was a little boring and long… but once you are familiar with the characters, it's impossible to put down! It has a very unexpected ending that satisfied me and made me wanna read more Le Carré books, but I could understand if you are a little mad after reading this novel… as it took me some time to get in terms with the ending.
This spy novel does not really have many fashion references, and the few ones it has are used to describe the characters and provide more information about them. For example, Leamas, the main character is said to have "… a utilitarian approach to clothes… Most of hi suits were of artificial fibre, none of them had waistcoats. He favoured shirts of American kind with buttons on the points of the collars, and suede rubber soles". This is a very descriptive and informative introduction to the character, and would even be very helpful if it would be in an 18th century (or older) novel.
There is one description that caught my attention and I cannot fully understand. In chapter 12, Leamas meets and an american wearing that is "… wearing high-heeled shoes in polythene wrappers". Why would she wrap her shoes? To protect them from the weather? I googled it but couldn't find anything about it, so if you know… please let me know! 🙂
There are many other clothes references, as the one describing a woman with a gray overall with chevrons on the sleeve, or little details mentioning the kind of suit the characters are wearing. These are all details that help you visualize and understand the character, but the two mentioned above were definitely the most intersting ones for me.
Did you find any other mention? Do you know why the woman was wearing shoes with polythene wrappers? If so, leave a comment below, or email me to novelstyle@ymail.com
And stay tuned cause at the end of the month I will post about Chocolates for Breakfast by Pamela Moore.