Pink Box march

Some days ago I received the March Pink Box…and as always, I waited till I tried all the products to give an honest review. I still do not know how I feel about these boxes…I love receiving them and the surprise factor they generate. Like a grown up's kinder egg….but with no chocolate! Why there is no chocolate?! That's what would make this little boxes perfect 🙂 This is what my box included:
Newsha volume hairspray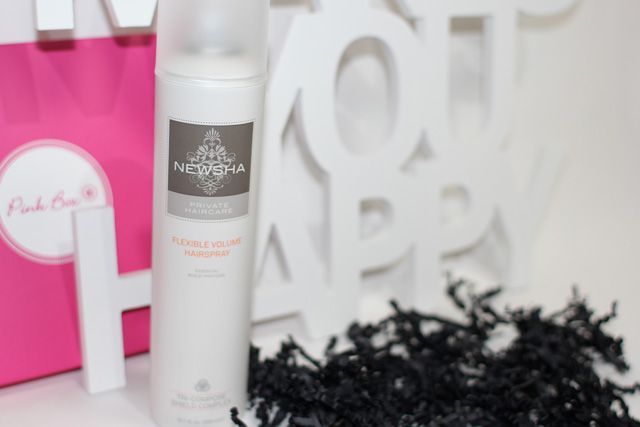 The Newsha hairspray is actually like any other hairspray. I do not really use them that much, so I wouldn't know how to say which one is better… but this one works… and it smells really good! Like nuts… well, it does have hazelnuts, walnuts and cranberry oil on it…so imagine that smell, delicious, right? Would I buy it: Yes, sure! 🙂
Dove go fresh rebalance
This Dove product is a body wash that works as a treatment when used every day. This is the product with better results, which is surprising as it come in an XS size. In just a few days I noticed that my skin wassilkier and softer… but I do not like the smell, though Lemon seems to love it! She cannot stop smelling me after using this body wash! Would I buy it: Yes, but in another smell…
Marbert bath and body fresh bodylotion
The Marbert body lotion is very refreshing, mostly because of it's delicious citrus fragrance, which is very similar to the Eau d'Orange Verte from Hermès. So it would be a perfect and cheaper alternative to the Hermès one. I'm not a fan of the citrus smell, I'm more into vanilla, but my mom loves citrus…which leads to my question: Would I buy it? Not for me, but I would buy it as a present for my mom.
Mememe beat the blues highlighter
Oh boy! Was I worried when I saw this Mememe illuminator!!! If you read last month's review, you know hat the cheek tint was a little bit of a mess and too confusing. But then I read the packaging and this one is a illuminator and highlighter! This time, I watched a tutorial before applying it…as I did not want to mess up like the last time! And I really liked it. The result is very similar to a Dior highlighter I use that is not produced anymore…so yay!!! I'm excited to find a replacement. Would I buy it? Yes!
Sensea mini hand cream
I tried it, and I really liked it! It came right on time as my hands get super dry in spring. It has a beautiful and super soft smell, kinda like baby powder. And the small size is perfect to carry around in the handbag 🙂 Would I buy it? Yes!

So, what do you think? Do you love these boxes….or would rather go to the store and pick your own products?