Pink box may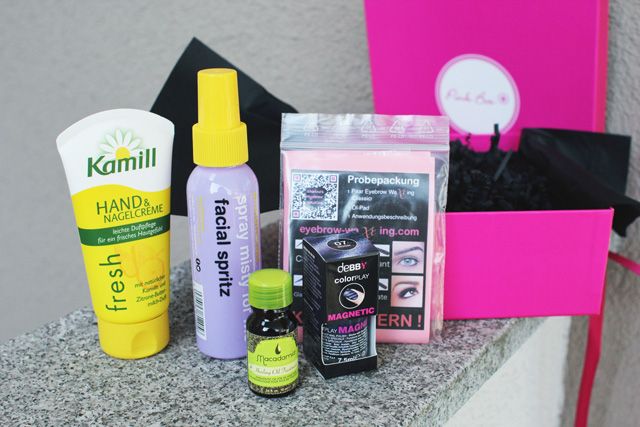 A few days ago, I received the Pink Box May edition (here). I'm super excited whenever it arrives cause it gives me the chance to try new products, that I'm pretty sure I did not know. This month it came with 3 amazing item, one that was included in last's months pink box (so pissed!) and one that is not useful for me…and also, a little bit scary! So this is what I got:
Kamill hand and nail lotion made my skin moisturized without leaving it greasy or sticky. And it smells really good, like lemon and buttermilk….which is very refreshing for summery days. Would I buy it? Yes!
Anatomicals spray misty for me is a facial spray, and the one and only thing I love that has lavander smell! It actually has a mix of lavander and peppermint, so maybe that's why it is so refreshing and relaxing! This spray is a handbag must-have long summer days or dry weather. Would I buy it? Yes!
Macadamia healing oil treatment, this is one of the things I was more excited about. Even though I have a bunch of hair products, I love all kinds of oils! And this one, very much like a moroccan oil, goes deep inside your hair, and doesn't make it oily! It detangles and helps repair broken or dry hair and make it shinier and softer. Would I buy it? Yes!!!
Debby colorPLAY magnetic nail polish, this product made me mad. It was also at last month's pink box…and in the same color. Not happy about it, and once again…would not buy it!
Sherine's eyebrow waxing, is a package with a waxing kit for your eyebrows. It is available in four different shapes, but to be honest…I do not wanna try this. It looks a little bit scary, and I like my eyebrows as they are.