Tchibo Blogparade "X-Mas baking"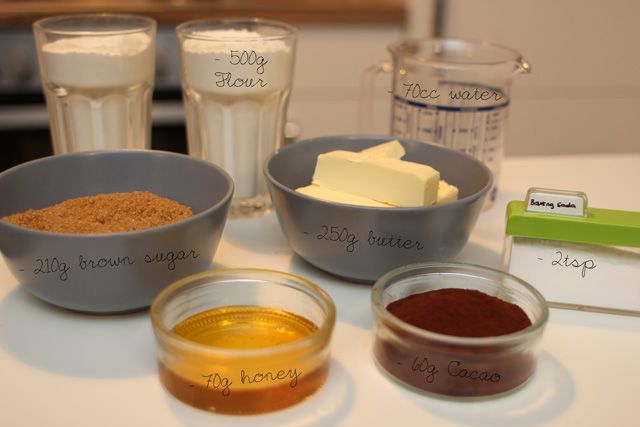 A few weeks ago, I was contacted by Tchibo to be part of their "X-mas baking" Blogparade. Of course, I inmediately said yes! I love the brand, and every week they come up with the cutest things… mostly during holiday season when their baking accessories are just adorable. Last easter I bought some egg molds with bunny and heart shapes! And this christmas they will have a silicone mold to bake cakes in the shape of… a village! How cute is that?! But I decided to pick the Gingerbread family cookie cutters, with a lovely mom that my husband says looks just like me (hair and bow maybe?) and a dog, to make… lemon cookies! With the Blogparade baking set I also received a sugar decoration set, pastry brushes and 2 cookie boxes, perfect to store my baked goodies and keep them fresh for days! These items will be available at all Tchibo stores around Nov. 19th :). In the meantime, here is the recipe I picked for Tchibo Blogparade:
Chocolate honey cookies
Ingredients:
– 500g flour
– 250g butter
– 2 tsp baking soda
– 60g cacao
– 70cc water
– 210g brown sugar
– 70g honey
Directions:
– Mix water, honey and sugar in a bowl and cook it with Bain-Marie till the sugar is melted.
– Add butter and baking soda and keep on mixing until it is all incorporated.
– Remove from the Bain-Marie and put it on the mixer till it is cold.
– Add flour and cacao.
– Let the mix rest in the fridge for 4 hours.
– Cut the cookies and wrap them with baking paper.
– Let them rest in the freezer for 4 hours.
– Bake at 160º C between 8-12 minutes.
– Decorate!!!
For the icing I used this Royal Icing recipe, but without lemon, as I did not think it would work with the chocolate and honey flavor.
Click here to download the recipe card!
And stay tuned cause soon I will tell you more about Tchibo's blogparade and the chance to win a baking set just like mine! 🙂